What is a virtual mobile number?
A virtual mobile number in the UK is an 11 digit number for receiving SMS messages. It's also known as an incoming long code, SMS reply number or virtual reply number.
It also frequently abbreviated to VMN.
It looks exactly like a normal mobile number but is hosted by an SMS provider. The number allows you to receive replies to outbound messages. You can also text the number directly.
Many people use a virtual mobile number so that they can receive both personal and business texts on the same phone. So you have one device sharing 2 mobile numbers, one personal and the other for business.
Most SMS API companies support a number of ways that you can access the incoming text traffic.
Receiving incoming text messages on a virtual reply number
This section outlines the 4 main ways that our customers can receive incoming SMS using a virtual reply number. Different suppliers will obviously provide different options.
1. Receive incoming SMS by email
Incoming SMS to a virtual mobile number can be forwarded instantly to an email address that the user can set in their account. 
Each incoming text generates an email, so there is one email for each incoming text.
Because the SMS to email  is sent instantly you can respond without delay.
If the person is replying to a text, then the content of the original message is included in the email so that you know what the person is responding to.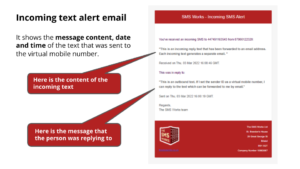 Be aware that if there are unexpected delays to your email service then you could be waiting for incoming text alerts to arrive. If you're using the service to receive time critical information, then it would be better to route the incoming text to a URL. 
It's a far more reliable way of receiving crucial incoming SMS data. See below.
2. Receive incoming text to a URL or webhook
Many users want to be able to integrate incoming texts into an existing CRM platform or system. Users are able to set any URL and all incoming text will be instantly pushed to the address set.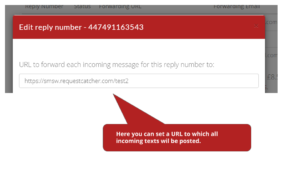 Incoming SMS Webhook alarm

You can set email alarms to be triggered if your incoming SMS webhooks fail or become unresponsive. This gives you the peace of mind that your systems are processing incoming SMS as expected.

See documentation for incoming SMS webhook alarms.
3. Forward incoming SMS by text to another mobile number
For users who are on the move, you can choose to forward all incoming texts to another mobile number. So texts received are simply forwarded by SMS.
4. View all texts sent to virtual mobile number in a web based account
Another option is to view all incoming SMS in your account. Here you'll be able to view, sort and download all the texts received.
How much does a virtual mobile number cost?
Different suppliers charge different amounts and there's a surprising range of costs from as little as a few pounds a month, up to around £50.
Here are the costs of a few suppliers offering virtual reply number in the UK.  Surprisingly, very few virtual mobile number providers display costs on their websites for some reason, so the list of vendors in rather short.
| | |
| --- | --- |
| Virtual mobile number supplier | Monthly cost (Ex VAT) |
| Fast SMS | £25.00 |
| The SMS Works | £13.50 |
| Voodoo SMS | £10.00 |
| Mobivate | £20.00 |
Most SMS providers allow you to pay for the virtual mobile number month by month, with no lock in period or contract.
How much does it cost to receive a text on a virtual mobile number?
For the vast majority of UK based suppliers, it is free to receive a text on an VMN. The person sending the text uses 1 text credit their normal rate (see below) but the SMS providers typically don't charge.
The exception to this is US based providers who normally charge a small amount to receive SMS.
Twilio for example, charges $0.0075 to receive a text. I'm not sure why they bother charging such a small amount. If you received 10000 incoming text it would only cost you $75 or about £56.
Vonage, another US provider charges $0.0062 to receive incoming texts.
What can a virtual mobile number be used for?
There are  almost endless ways that a virtual mobile number can be used to improve customer communications in any organisation.
Here are a few of the most common ones.
Replying to an outbound text to:
Confirm an appointment or booking by SMS
Answer an SMS survey question
Reply to a  support chat SMS thread
Replying with an opt out instruction
Sending a text directly to virtual mobile number
Sending an authorisation or 2fa code
Responding to an advert or marketing campaign
Initiate a support request with an agent
Can you use a VMN to receive 2fa codes for purchases or financial transactions?
Generally, banks and financial institutions will try to prevent sending 2fa codes for purchases to virtual mobile numbers.
There's a security risk if they did. Fraudsters could potentially anonymously verify a purchases without any traceability.
Our test have shown inconsistent results with some texts being delivered and some not. 
What happens if I try to call a virtual reply number?
If you call a virtual mobile number, you'll receive a message that the number is unobtainable or switched off. You'll receive a different message depending on which mobile network that is hosting the virtual mobile number.
Regardless of network you can't leave a message on a virtual mobile number.
Can you send images to a virtual mobile number?
No, you can't send an image or an MMS to a virtual mobile number.
Can you transfer virtual mobile numbers from one SMS supplier to another?
Virtual mobiles numbers can't reliably be transferred from one provider to another. The number is owned by the provider so most would be unwilling to release the number to a competitor.
While in theory  any number can be virtually hosted, the number can become unreliable with the number becoming unexpectedly unhosted.
It's not to be recommended!
Who owns a virtual mobile number?
Even though you might be paying a monthly fee for your VMN you don't actually own it.
Ownership rests with the SMS provider and ultimately with the mobile network that issued it. So you won't be able to transfer  your VMN or convert it into a normal mobile number that could receive calls.
We recommend that you don't let your virtual mobile number become set in stone so that you'd be lost without it.
In other words don't publish it if possible and remain flexible with its use. Let customers know that the number might change at some point.
It's generally a bad idea to become dependent on something that you don't ultimately own.
Can virtual mobile numbers be used internationally?
VMNs can be used internationally but the results might not be consistent. What I mean by that is that mobile numbers from some countries  might not be able to text a UK VMN.
We recommend that you use VMNS on the understanding that they probably won't work unless you are texting from a UK number.
If the UK mobile number happens to be outside the UK , that will work fine. So a UK customer on holiday in France for example, will be able to text a VMN without any issues.

Also note that virtual mobile numbers can usually only receive messages from from mobile numbers registered in the same country.

For example if you had an Irish virtual mobile number (starting 353) and you sent a text to a UK mobile, the user would receive the message but would likely be unable to reply.

Result could vary between different networks, so thorough testing is recommended.
How much does it cost to send a text to a virtual mobile number?
It costs one text at the user's normal SMS tariff.
The text is included in monthly free text bundles so for most people there won't be any cost at all. Pay as you go customers will be charged 1 text, normally between 8 and pence, depending on network.
UK customers who are roaming may find they have been charged a text at their standard rate rather than it being included in their free monthly message bundle. 
What are the alternatives to a virtual mobile number?
Some individuals opt to get hold of a second phone number as an alternative to a virtual mobile number.
There are a few reasons why a second phone number might be useful. If you're a small business owner who likes to develop close relationships with their clients, there's a chance they'll call you on your personal number when you're off work.
A second phone number can separate your business and personal calls, which helps you control your personal time more effectively.
Related articles
How to use a short code and keyword