Why software companies choose The SMS Works as their SMS API supplier
We're slightly smug to be the SMS provider for about 35 UK software companies.
The software companies span a wide range of industry sectors including automotive, healthcare, financial services, sports, logistics and hair and beauty and many more.
They mainly use us for enabling their customers to send reminders, account alerts or other information type texts. Very few of them use us for marketing SMS.
What follows is a somewhat immodest run through the main reasons that we've been chosen as such a crucial supplier.
We hope it will give you the confidence to investigate us and put us to the test.
Why have so many software companies chosen us as their SMS provider?
It goes without saying that all our customers expect great reliability, easy to follow and comprehensive documentation.
They expect a free test account and as much support as they need.
We deliver all the basics that you'd expect from any SMS provider.
But what do we do that's genuinely different?
And can we back up these claims with examples of where we've gone further to deliver an outstanding service?
That's what we hope to achieve in the points below.
Lower cost per message
We were surprised to work out that business SMS prices have dropped by about 70% in the past decade or so.
In 2005, you could expect to pay as much as 10 pence per text. 15 years later, you'll be paying significantly less than 3 pence per text, even on modest volumes of less than 15000 texts a month.
We've found that many suppliers are not passing on pricing reductions to their customers, so many rates we come across are looking distinctly uncompetitive.
Our aim is to be the lowest cost UK based SMS provider in the market and all our customers pay a low, competitive rate per text. 
"Pricing is very competitive and clear"
Mark Kelland, Commercial Manager – Dragon 2000
We've put together this SMS price comparison tool which allows you to compare a number of SMS suppliers. It might be useful
Delivered only pricing
Most UK SMS providers charge for all the messages that you submit, even if a proportion of them fail.
But no SMS provider has ever had to pay for failed messages, so those that do are making an additional profit on all the non-delivered SMS traffic.
With an average failure rate of about 9%, that's quite some extra margin that the industry's been enjoying the past couple of decades.
We refund all non-delivered texts sent to UK mobiles, so there's zero wastage.
It's a fairer and more open way of working. 
We hope you agree.
Flat rate per text regardless of volume
Our customers need to know precisely what rate they'll be paying for their SMS traffic, regardless of the volume sent in any particular month.
All our software customers pay a flat rate per text even when the monthly volume may be uneven and vary dramatically from month to month.
"Pricing policy is really fair and very competitive."
Ian Zucchi, Product Manager – TISSL Limited
Pay monthly in arrears
One of the biggest worries for software companies is the danger of running out of SMS credits. 
Most SMS providers operate a prepaid pricing model, meaning you have to set up low credit warning alerts and worry about running of credits.
We remove that worry by operating a post pay service for all our software customers.
All SMS volume is paid for monthly in arrears.
"We initially moved to The SMS Works due to the great value package they offer, both in overall cost and not charging for undelivered texts."
Andy Meikle, Technical Director –  Motasoft Ltd
For those customers that prefer to buy credits in advance, we also have an automated SMS top up service, where a purchase is made if SMS credits fall below a set level.
Swift and comprehensive support
When you're integrating with a third party API, you need rapid support from people that can actually address your issue.
What you don't want is for your issue to be partially answered but still leaving you at a roadblock.
That's why we get senior people involved from the very start, people who want to solve whatever problem you've got, rather than just getting a support ticket closed.
You also don't want to be kept waiting for hours for your questions to be answered. You'd like help at the point at which you're asking for it, not 3 hours later.
"It is their support that stands out. Upon experiencing an issue, which is infrequent, the team respond very quickly, with the issue typically being resolved in the first reply."
Mark Smeed, Founder, CEO –  Webx Solution Ltd
We aim for an exact fit with your requirements, not 'that'll do'
We're developers too and we're not satisfied with simply providing a service that more or less fits with what you need.
We want to provide the tools that you need in a way that works best for you.
On most occasions, we're more than happy to provide additional tools or functionality  at no additional cost. As long as there is no negative impact on other customers, then we'd like to provide you with an exact fit.
Within reason, we'll do whatever it takes to get things done the way you want them.
"I feel that The SMS Works people truly understand the technical needs of those wishing to use their API."
We provide a complete SMS analytics tool
SMS Insights is a complete SMS tracking and analytics platform that give you visual representation of all aspects of your SMS activity.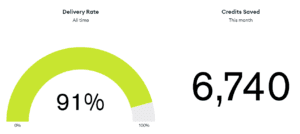 A series of automated charts and tables provide actionable insights into your SMS campaigns and you can track, measure and share the findings with your clients.
You can dive deep into the data and reveal ways in which you can reduce costs, increase effectiveness and eliminate wastage.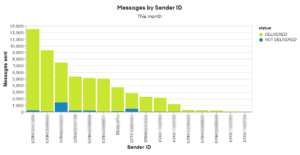 Ready to test us?
Would you like to have a chat about whether we could be a good fit?
Please call or email me, Henry Cazalet on 07900 122320 or [email protected]
Help yourself to a free test account if you'd like to dive in and explore integration. We'll add as many free test credits as you need.
We're here to save you money and deliver a service that goes above and beyond what you're used to.
Thanks.