Alternative SMS API providers to Twilio
Twilio have become the dominant global SMS API provider for good reasons.
They're a relative newcomer to the SMS business, having been founded in 2008 but since then they have risen indecently quickly to become the market leader.
Not only have they produced a robust SMS API at a sensible cost, they also have a great range of other tools that allow companies to unify all their communications under one roof.
They provides APIs for voice, SMS, Video and Whatsapp under their flagship offering, Twilio Flex. It's a very impressive platform both in its innovation and wide range of applications.
If you're an enterprise looking to unify all your communication in one programmable contact centre platform, then I believe there is no better solution.
Twilio – great for global enterprises wanting unified messaging, not great for UK companies wanting an SMS API
Although this type of unified communications under one roof are most definitely the future, most of us aren't quite at that stage yet.
It might be at least another 5 years or more before most companies will have any close to what could be described as 'unified customer messaging'.
Twilio Alternatives
There's certainly no shortage of options if you're looking for a Twilio alternative.
Many of Twilio's direct competitors have a similarly impressive range of CPaaS tools and many of them have a better record of customer service.
The table below lists a few of the main ones, along with their products and pricing.
One thing that's common to all providers is that all have very low Trust Pilot scores. The average for the Twilio alternatives listed above is just 2.5 out of 5.0, with the range being from 1.3 to 4.8.
Vonage is the only supplier that scores well on Trustpilot, with a review score of 4.8.
Low review scores
Most complaints seem to be about sluggish or unhelpful support. A good proportion of the reviews appear to be from disgruntled customers whose accounts have been suspended without notice. 
I suspect that many of these accounts were being used for fraudulent or spamming purposes and the supplier was perfectly entitled to suspend the accounts.
So at least some of the bad reviews can be discounted. But digging a little further there are further support issues that customers comment on.
Impersonal customer support
One of the main grumbles is about slow and unhelpful support. Smaller customers find that their support requests are slow to be responded to and when they are, they often just point the customer back to the documentation.

Rarely is someone actually trying to help solve a problem or really understand the issue. You're very unlikely to get a dedicated account manager who could make suggestions or give helpful advice.

This is typical of some of the reviews received from one of the Twilio alternatives.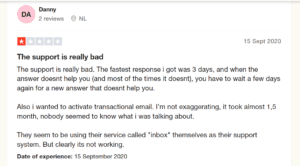 Smaller customers treated with suspicion
New, smaller customers are often treated  with suspicion and are then faced with a lengthy onboarding process. The approach seems to be, 'prove to us you're not a scammer'. It's not the most welcoming experience.
This review makes the problem very clear.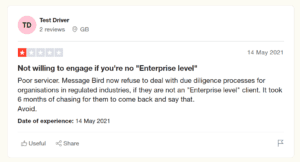 Most Alternatives to Twilio are based In the US
With the exception of Messagebird, all the main competitors to Twilio are also US based. They are also massive corporations, many of them on the NYSE.

This presents no problem if you're an enterprise customer who wants a global  omnichannel messaging solution. You'll probably get the attention you deserve.
It might not be so great if you're a smaller company who mainly only sends messages in one country and in modest quantities.
They simply don't have the expertise to offer detailed support in specific countries.
Organisations should choose SMS API providers that are based in their own country. There will be plenty to choose from. If you're in the UK, then we hope that we'll make your short list.

We present our case for you to use us.
7 reasons why you should choose The SMS Works over Twilio
No one's going to blow our trumpet for us, so here's a list reasons why we hope you'll explore our SMS API instead of Twilio.
1. Pricing – make big savings
For most people, pricing is often the second most important factor, behind service reliability.
Twilio are based in San Francisco, so Twilio pricing is in dollars. They charge a flat rate of 4.2 US cents per text. 
At today's exchange rate, that equates to 3.4 pence per text.
At The SMS Works, we charge a maximum of 3.25 pence per text, so at our most expensive band, companies save around 5%.
Even more SMS savings are available for companies buying larger blocks of text credits.
The SMS Works pricing
| | |
| --- | --- |
| No. of SMS Credits | Delivered only price per UK text (Ex VAT) |
| 0 – 10,000 | 3.25p |
| 10,001 – 25,000 | 3.15p |
| 25,001 – 50,000 | 3.05p |
| 50,001 – 100,000 | 2.95p |
| 100,001 – 250,000 | 2.85p |
2. Pay only for delivered texts
Like almost all SMS API providers, Twilio charge if a message is not delivered, so there can be considerable wastage on all the texts that fail, for whatever reason.
At The SMS Works, customers are only charged if a message is delivered. All failed texts are immediately refunded.
With the average failure rate at around 15%, there can be considerable additional savings.
A failure rate of 15% would mean that the Twilio rate of 3.4 pence per text, equates to a cost per delivered text of 3.9 pence.
3. No currency fluctuation
Most customers want to know exactly what they are being charged per text. As Twilio, charge in US dollars, UK users are always subject to variable pricing as the value of the pound moves against the dollar.
Our UK SMS pricing means customers always know precisely what they are being charged.
4. No Incoming message charges
Twilio charge a modest fee of 0.0075 cents per incoming text.
No SMS provider has ever had to pay for incoming texts, so it unclear why they would charge for this.
At The SMS Works, incoming texts are free of charge and always will be.
5. Really, really snappy and responsive support
Being UK based is a huge benefit when it comes to delivering fast, attentive support. We're around during the times that you need us and we normally respond to all our support requests within the hour.
Customers have said some lovely things about our swift and attentive support and here are a few gems that we're pleased with.
I'm very impressed with your pro-active and efficient responses, so keen to see what else your platform and company has to offer.
Paul Taylor​ – Advancedco
Also: regardless of where this ends up, let me put on record how hugely impressed I am with your engagement here. Impressive & much appreciated.
Andrew Hindle – Hindle Consulting
Henry, your efficiency is always astounding. Thank you! 
Ian Zuckki  -Tissl
It is refreshing to get genuine help from a real human being.
David TPS UK
Well that's good customer service. At this point, I've got about 7 different SMS providers setup and I'm trying to find the best one and I think I've found them.
Matthew – Jobstaq
There are some genuine concerns that the Twilio service is not always at the level that its customers could reasonably expect. One of our customers had to wait over 3 days for a response from the support team.
Taking a quick look at Trust Pilot and you don't have to dig too far to find plenty of unhappy customers.
I think they are suffering from being a massive corporation whose customer care hasn't kept pace with their growth.
Customers can feel distinctly unloved.
It seems that everything is great as long as you don't need support of any sort.
6. UK based servers
Twilio are an American company and quite reasonably, their servers are based in the US.
Here in the UK, many companies are required, for improved data security,  to use vendors that hold and data on UK servers and keep all customers data within the UK.
That's what we do.
SMS servers are UK based and all data is held and processed here.
7. No12 month contracts
Although we couldn't find any definitive information about contract tie-ins on the Twilio website, we know that a few customers that used to use Twilio had been tied into 12 month contracts.
We believe the contract tie-in is specifically for post pay customers or customers with special discounts for larger SMS volume.
Just to confirm, at The SMS Works we don't have any sort of time contract, customers are always free to leave whenever they wish.
8. Complete SMS analytics and campaign tracking
The SMS Works offer far more detailed SMS analytics and campaign tracking than Twilio.
Customer have access to full range of SMS reports and charts that give powerful and actionable insights into all SMS activity.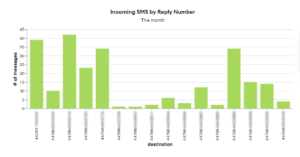 Who to choose?
If you need  a comprehensive messaging solution that incorporates voice, SMS, WhatsApp and video, then Twilio are definitely the right supplier for your project.
If you are looking at just an SMS API implementation, then there are lots of good reasons to look at The SMS works.
So that you can see our SMS API in action, everyone can set up a free account. It comes with 50 free text credits for testing as well as a free unique reply number.
We're here to help if you need us. Feel free to set up a free account today.