International
SMS
We connect to mobile networks in over 200 countries, so wherever you're planning to send SMS, we can provide a truly global SMS solution.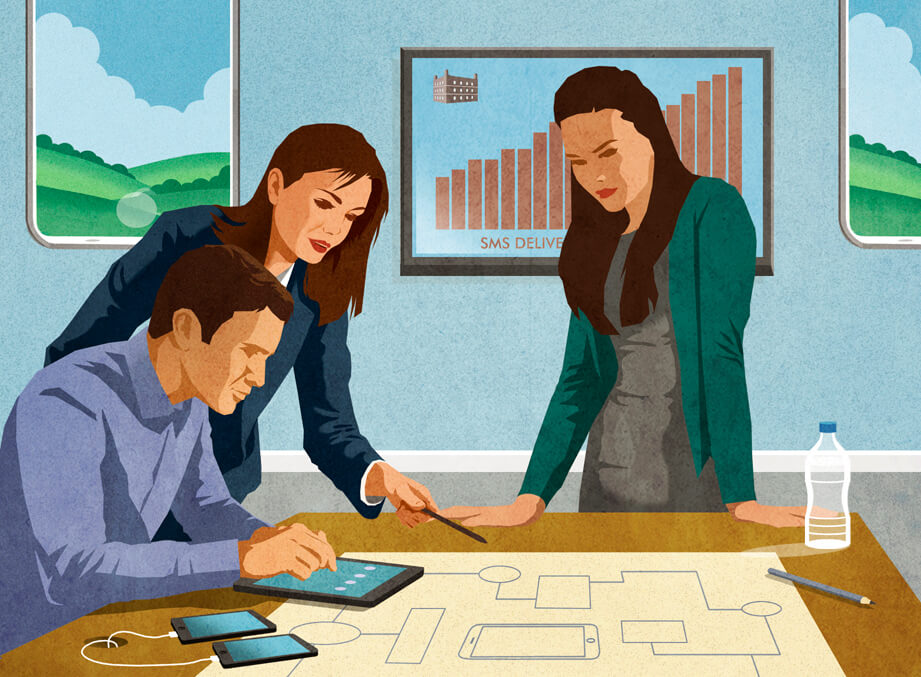 About our International Pricing
Our international SMS prices are very low and we aim to be the best value international SMS provider.
You don't need to purchase country specific text credits for sending messages outside the UK. We will automatically deduct the correct number of credits in line with the tariff for each country.
Undelivered Messages
Unlike sending to UK numbers, where all non-delivered messages are refunded, you pay for all international messages that you submit via our API, whether the message is delivered or not.
The reason for this is that we are also charged for all messages that we submit to non-UK networks.
International Tariff
Code
Dial Code
Country
Pence per SMS (ex. VAT)
Sending SMS Internationally is a little different
We've broken some important details here to help you plan
Registration & Whitelisting
Networks in some countries require you to register before you are allowed to send business texts.
Plan your usage

The process can be quite involved and time consuming. You are often required to submit all the messages that you intend to use, along with the sender IDs.

You'll sometimes need to complete forms on company letter head and submit them to us and we'll forward them to to the appropriate networks for processing.

For some countries you can expect to wait up to 90 days for the registration and whitelisting to be processed and approved.
Countries that require registration

Here's a list of the countries that require registration in advance of sending SMS. Pease be aware that the list may change without notice.

Afghanistan
Australia
Benin
Botswana
Cameroon
Canada
China
Croatia
Czechia
DRC
Egypt
Eswatini
Ghana
Guinea
Guinea Bissau
India
Ivory Coast
Indonesia
Iran
Jordan
Kenya
Kuwait
Liberia
Malawi
Mali
Nigeria
Palestine
Philippines
Qatar
Rwanda
Saudi Arabia
Serbia
South Sudan
Sudan
Tanzania
Thailand
Turkey
UAE
USA
Uganda
Vietnam
Yemen
Zambia
The originator or sender ID is sometimes replaced
Several countries have different laws and regulations regarding the sending of business SMS.
Some don't allow you to set the sender ID.
In these cases, the alphanumeric sender ID is usually replaced with either a random number or a local virtual mobile number.
The networks and countries that use this policy change rapidly, so we always suggest that you thoroughly test sending messages to countries outside the UK, where possible.
International delivery reports
We provide delivery reports for every country that we send to.
Reporting varies by country

Sometimes international delivery reports don't provide us with all the detail that you might be used to in the UK.

We'll provide as much information as we can but we're unable to provide detailed reports if the relevant information hasn't been supplied to us by the relevant network.

Failure reason reporting

We will often not be provided with a reason for non-delivery as you might expect for UK message failures.

As such, identifying the precise reason for non-delivery is often not possible.
It's free and easy to set up International SMS
1

No set up fee

All of your keywords are managed from your account dashboard.

2

Simple to request

Simply hit the 'Request International SMS' button on your account page, and we'll get right on it.

3

Up and running quickly

Once we've received you request we'll set your account to international. (Please allow 24 hours.)

4

For registered Businesses

Our international SMS service is for registered businesses. If you've used a personal email address to set up your account please contact us.
Set up International SMS