Sending international texts to non-UK numbers
If you are intending to send SMS to the US, Canada or Australia, then your are required to register the intended sender IDs in advance of sending any SMS traffic.
Please contact us on [email protected] and we will talk you through the registration process.
We connect to mobile networks in over 200 countries, so wherever you're planning to send SMS, we can provide a truly global SMS solution.
There are a few things you should know about sending SMS outside the UK. Technically it's often not as straightforward and different countries have different rules and regulations around sending business texts.
So this post highlights the things you need to be aware of.
Request international sending
Your account will need to be switched to international if you would like to send messages outside the UK.
To do this, log in to your account, scroll to international SMS and hit Request International SMS.
Once we've received you request we'll set your account to international. (Please allow 24 hours.)
Please note that accounts set up with personal email addresses cannot be switched to international sending.
Please contact us if you've used a personal email address to set up your account but would still like to send SMS outside the UK.
Controlling which countries your account can send to
You can toggle individual countries off and on. This allows you to only send to specific countries.
To do this login to your account and go to SMS Credits – International SMS.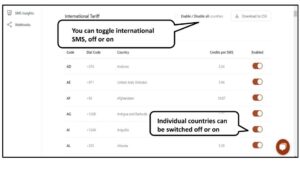 Please see the following article to find more info on controlling which countries you can send to. 
International SMS costs
Please find below a link to our international pricing.
Our international SMS prices are very low . Despite the global networks increasing their international termination rates, we aim to be the best value international SMS provider
You don't need to purchase country specific text credits for sending messages outside the UK. We will automatically deduct the correct number of credits in line with the tariff for each country.
For example if the cost to send a message to a country is 6 pence and you purchased text credits at 2.99 pence, we will deduct 2.06 credits from you account for each text sent.
You pay for all submitted international messages
Unlike sending to UK numbers, where all non-delivered messages are refunded, you pay for all international messages that you submit via our API, whether the message is delivered or not.
The reason for this is that we are also charged for all messages that we submit to non-UK networks
The originator or sender ID is sometimes replaced
Different countries have different laws and regulations regarding the sending of business SMS. 
Some don't allow you to set the sender ID.
In these cases, the alphanumeric sender ID is usually replaced with either a random number or a local virtual mobile number.
The networks and countries that use this policy change rapidly, so we always suggest that you thoroughly test sending messages to countries outside the UK, where possible
Registration and whitelisting is sometimes required
Some networks in some countries require you to register before you are allowed to send business texts.
The process can be quite involved and time consuming. You are often required to submit all the messages that you intend to use, along with the sender IDs
You'll sometimes need to complete forms on company letter head and submit them to us and we'll forward them to to the appropriate networks for processing.
For some countries you can expect to wait up to 90 days for the registration and whitelisting to be processed and approved.
The process is different from country to country and sometimes from network to network, so expect a fair bit of admin.
Sending SMS to the USA and Canada
Sending SMS to US and Canadian mobiles is now heavily regulated. Registration of your proposed service is now required, including screenshot evidence of where customers opted in. The registration process takes 30 days+
You can send a limited number of texts without registering but The SMS Works would need to provide an approved long code to use as the sender ID and the number of texts you can send is restricted.
Daily limit: 500
Weekly limit: 1,000
Monthly limit: 2,000
Delivery success without registration is poor, so if you're planning to send SMS to the US and Canada, registration is essential.
Here's a list of the countries that require registration in advance of sending SMS. Pease be aware that the list may change without notice. Please contact us at [email protected] for up to date details.
| | | |
| --- | --- | --- |
| Afghanistan | Ivory Coast | Rwanda |
| Benin | Indonesia | Saudi Arabia |
| Botswana | Iran | Serbia |
| Cameroon | Jordan | South Sudan |
| China | Kenya | Sudan |
| Croatia | Kuwait | Swaziland |
| Czech Republic | Liberia | Tanzania |
| DRC | Malawi | Thailand |
| Egypt | Mali | Turkey |
| Ghana | Nigeria | UAE |
| Guinea | Palestine | Uganda |
| Guinea Bissau | Philippines | Vietnam |
| India | Qatar | Yemen |
| US and Canada | Australia | Zambia |
International delivery reports
We provide delivery reports for all countries that we send to. Please bear in mind that sometimes international delivery reports don't provide us with all the detail that you might be used to in the UK.
We will often not be provided with a reason for non-delivery as you might expect for UK message failures.
We'll provide as much information as we can but we're unable to provide detailed reports if the relevant information hasn't been supplied to us by the relevant network.
So, identifying  the precise reason for non-delivery is often not possible
Can we help at all?
We're here to help, so any further queries on international sending, please get in touch.