What is flash SMS?
Flash SMS is a special type of text message that displays immediately on the mobile phone screen without the user having to take any action to read it.
A flash SMS (also known as a class 0 SMS) will appear on a mobile, even if the screen is locked.
This is how a flash SMS appears on a mobile phone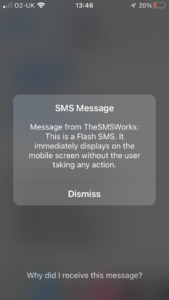 As soon as the user presses 'Dismiss' the message disappears and is not stored in the SMS inbox.
Flash SMS cannot be sent as a p2p text, from one person to another. They can only be sent via an SMS API service.
How does Flash SMS work?
To send flash SMS you need to have an account with an SMS provider who has the ability to send them.
Typically the provider has a specific endpoint allowing you to send flash messages.
At The SMS Works, our endpoint for sending flash SMS is
https://api.thesmsworks.co.uk/v1/message/flash
What is the purpose of Flash SMS?
Flash SMS has been around as an SMS special feature since the late 90s. The original idea was to have a type of text that could be more attention grabbing than standard SMS. 
Because the message appears on the screen, in full, without having to press any buttons or unlock the phone, the message is more likely to be read.
That's the logic.
This made sense before the arrival of the smartphone when mobiles had very limited functionality compared to today's phones.
Flash SMS was invented in an era when phones were able to make calls, receive texts and that's about it. It was seen as rather an impressive tool that could genuinely make some impact.
It never did.
What are the downsides of Flash SMS?
Flash SMS never really took off.
The average person has never heard of it or ever received one.
The major flaw with flash SMS is that the message isn't stored on the phone. As soon as it's 'dismissed', it's gone for good.
If the message contained any important information like a 2fa security code or an appointment time, then that information is lost.
There's also a major security issue with flash SMS . The message arrives on the phone, in full, on the lock screen. If that message contains any sensitive information, then that's freely available to be read by anyone that can see the phone. It's totally insecure.
So flash SMS doesn't really serve any purpose. 95% of all texts sent are read within 5 minutes anyway, so further attention grabbing isn't really necessary.
Is it safe to open a flash SMS?
Flash SMS just arrive on the phone, so there's no requirement to open them in the way that you'd open a standard text.
The technology is perfectly safe though and doesn't present any security or virus threat.
Should I use Flash SMS for contacting my customers?
In a word, no. 
Flash SMS was not a great idea back in the 90s and it's still not a great idea. You're more likely to alarm your customers than impress them. 
Because the message disappears once you dismiss it, you'll probably generate a huge amount of support from customers wanting you to send the message again because they couldn't save the content.
I don't know of a single company that has used flash SMS effectively and continues to use it.
Flash SMS on iOS
Starting in iOS 14, Apple started to conditionally treat Flash SMS like regular text messages. If the device is locked, then flash SMS appear as a regular text message notification on the lock screen and the message will be stored in the iOS messages app. If the device is unlocked, the flash SMS works in the expected way, with all of the downsides we've mentioned.
How much does it cost to send a flash SMS?
There's no additional charge to send flash SMS, so you'll be charged you standard SMS rate by your SMS supplier.
Can you set the sender ID of a flash SMS?
You can set the sender ID but not in the same way as a standard text.
With flash SMS, the message arrives with the words SMS Message at the top.
The next line is the sender ID and is presented as show below.
Here is a full explanation and full breakdown of all the component parts of a flash SMS.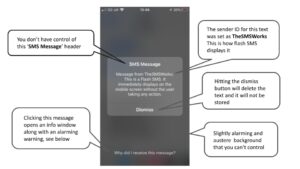 What happens if you dismiss a flash SMS?
If you dismiss a flash SMS, the message disappears and is not stored in your message inbox.
You also receive a slightly alarming message telling you how fraudsters might attempt to use flash SMS as a way of conning people into clicking on dangerous or malicious links.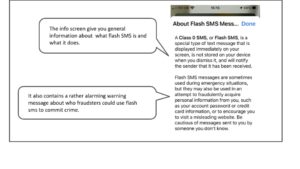 Related articles
What are OTT Messaging apps? And should you consider using them as an alternative to SMS?
What's the average open rate for SMS compared to email? Is SMS or email more responsive?
Complete guide to using short links in text messages Short links increase the number of characters available. This is how to use them effectively.